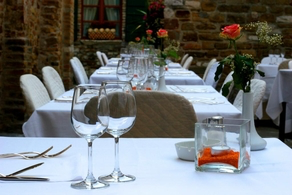 Dine Around with mid-american coaches
Tuesday, February 11, 2020
Highlights:
- Lunch at Sister's Tea House
- Visit Sammysoap
- Visit Chocolate, Chocolate, Chocolate
- Deluxe Motorcoach Transportation
Departure Points:
- Washington: Depart 9:00 AM / Return 5:00 PM
- Kirkwood: Depart 10:00 AM / Return 4:00 PM
Join us for a delightful day trip as we head to Sister's Tea House in Fenton, MO. If you like dining out and meeting new people, consider joining the Dine Around with Mid-American Club. The club's mission is simple: get together once a month and go somewhere new for lunch. Not only does the club break people out of their routines (cycling between the same four or five restaurants each time they go out), but it also encourages people to try places a bit out of their comfort zone. Likewise, the club's a great way to step outside your normal social circle.
How the program works is, each month we will feature a trip to a restaurant that promises to be a wonderful dining experience. Along with this will be an activity to go along with the day. We will select restaurants each month in different locations. Each person will receive a card which will be punched each month when you participate in the "Dine Around with Mid-American". When you have 6 punches, you will receive a $25.00 travel coupon to redeem on your next trip.
Tour Cost: $89.00 Per Person